Layovers can be pretty annoying but there are so many options how to use your time during them. You can choose among shopping at airport malls, relaxing in airport lounges or in some cases you can also leave an airport and visit the city. Here's everything you should know before leaving the airport in Beijing. Are you interested in how to spend a few hours in Beijing, China capital?
---
This April we visited our family in Taipei in Taiwan. We flew from Vienna to Taipei and back with Air China. Usually we pick the shortest layovers because Karol doesn't like to spend too much time at airports. We did it this way again but then Air China changed our flight on the way back home. So instead of 3 hour layover we were supposed to stay at the airport more than 8 hours. Firstly we were angry a little bit because the company didn't give us any other flight option. But then I realized that we could spend our layover nicely – exploring the city for example. Our layover was during the night, so unfortunately, we didn't have a chance to visit the Great Wall.
Organized tour vs on your own
We did a lot of research. Usually we don´t use services of tour companies but in this case it seemed to be the best option. We had only 8 hours, we didn't know the city and we wanted to spend our time as much effective as we could. After reading very positive reviews we contacted Layover Tour Beijing and booked a private tour for two. The best part of the private tour is that your tour guide will do everything for you and you don´t have to care about anything. He or she comes to pick you directly to the arrival hall and then makes sure you will be back in time for your next flight.
We couldn't choose better. From the first moment I was very satisfied. I sent the e-mail and a few minutes later Willy contacted me back. In the second e-mail he was very nice and funny – he wrote me that maybe he would contact me back in a few hours because there was already late in China. The communication with him was quick and highly professional. We provided him our names and flight details and he arranged a tour guide for us. He was very helpful, he even sent us important information about immigration and customs in a confirmation e-mail.
SAVE IT FOR LATER | PIN IT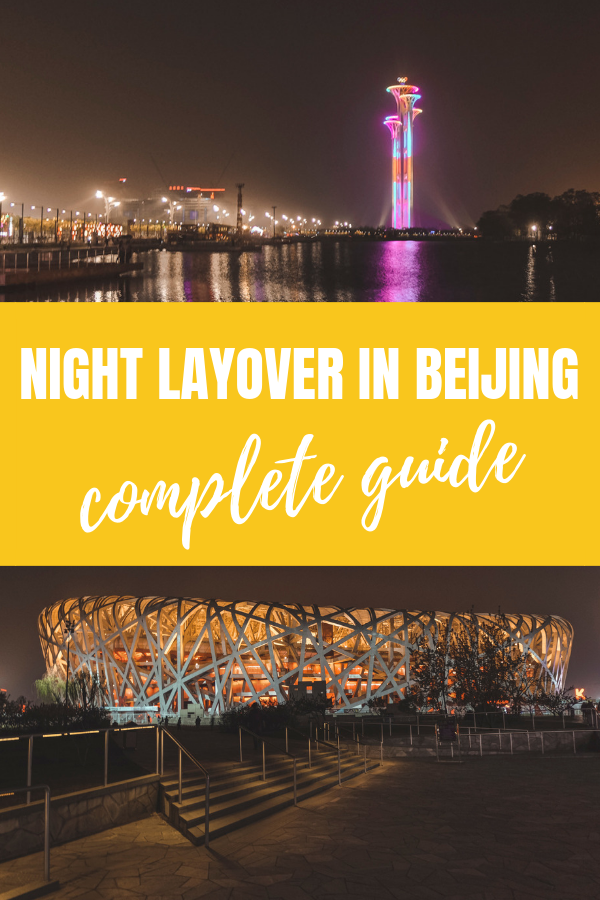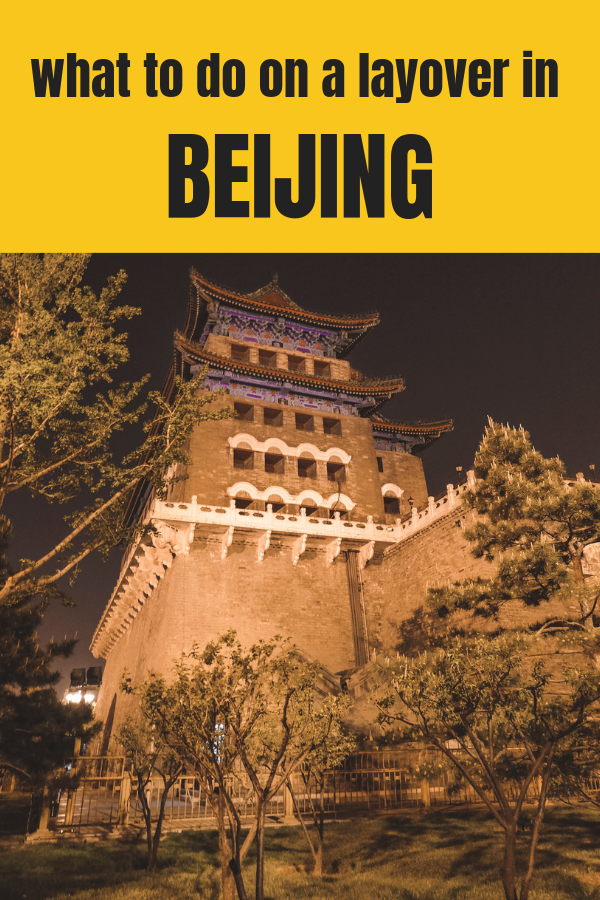 invisible text
Which tour is good for you?
It depends on many factors. First of all, you know what you are interested in. But it isn't always possible – you have to consider the length of your layover and also time of your visit. I desperately wanted to visit the Great Wall of China but it wasn't possible during night. As well as the Forbidden City. Those two were in my bucket list and I didn't know what to do. But Willy was so nice that he sent me the whole list full of places and activities which were an option also during the night. You can also find a lot of inspiration on their website.
Our night in Beijing
After we arrived at Beijing airport we ran fast to line up for our transit visa. We were lucky because there were only a few people standing in the line. But it was moving so slow. So, be prepared that you can spend maybe 2 hours before you finish all necessary processes. The meeting point with our tour guide from Layover Tour Beijing was a Starbucks behind customs and we found it very easily. After we met with him our night started!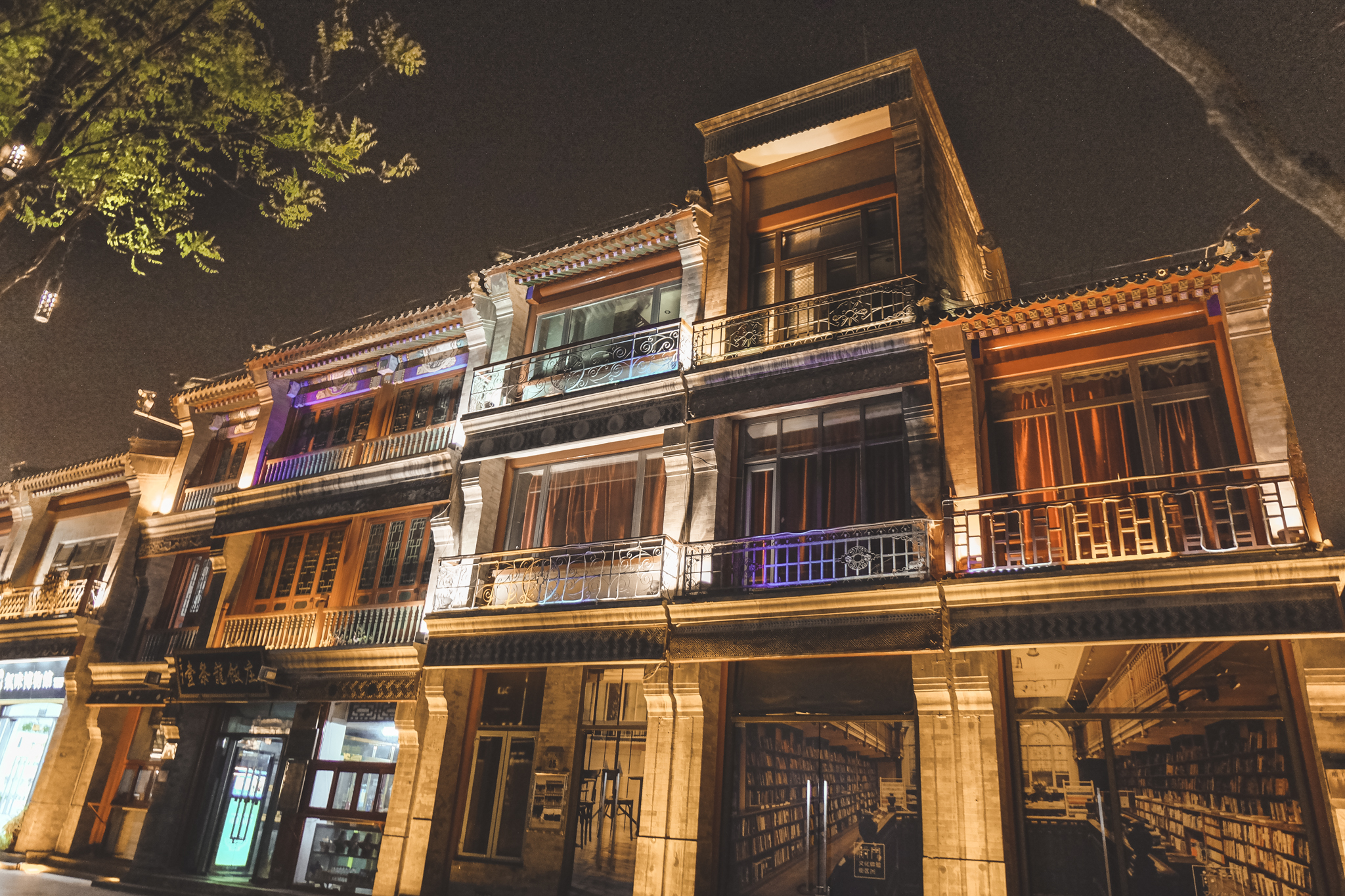 We left the airport at 7 pm and we had approx. 4 hours to visit the city centre and return back to departure hall. Only the drive from the airport to the centre took at least one hour so we had in fact only two hours for exploring the night life of China capital. Our driver Yongbin was totally perfect, we had a lot of fun during the ride. He told us a lot not only about Beijing (and he knows a lot about the city history and architecture, Chinese culture and food and more and more interesting stuff) but also about his own life and his travels. We loved his stories from America.
But back to the topic. During the ride we enjoyed the most colourful views we have ever seen. Olympic Park Observation Tower, or simply Beijing Olympic Tower, on Kehui Road South, were totally amazing. It is 243 meters high and it was opened in 2014. I have to admit that with all that gray steel and concrete construction it can seem boring during the day but with all those colours it seems like a rainbow during the night.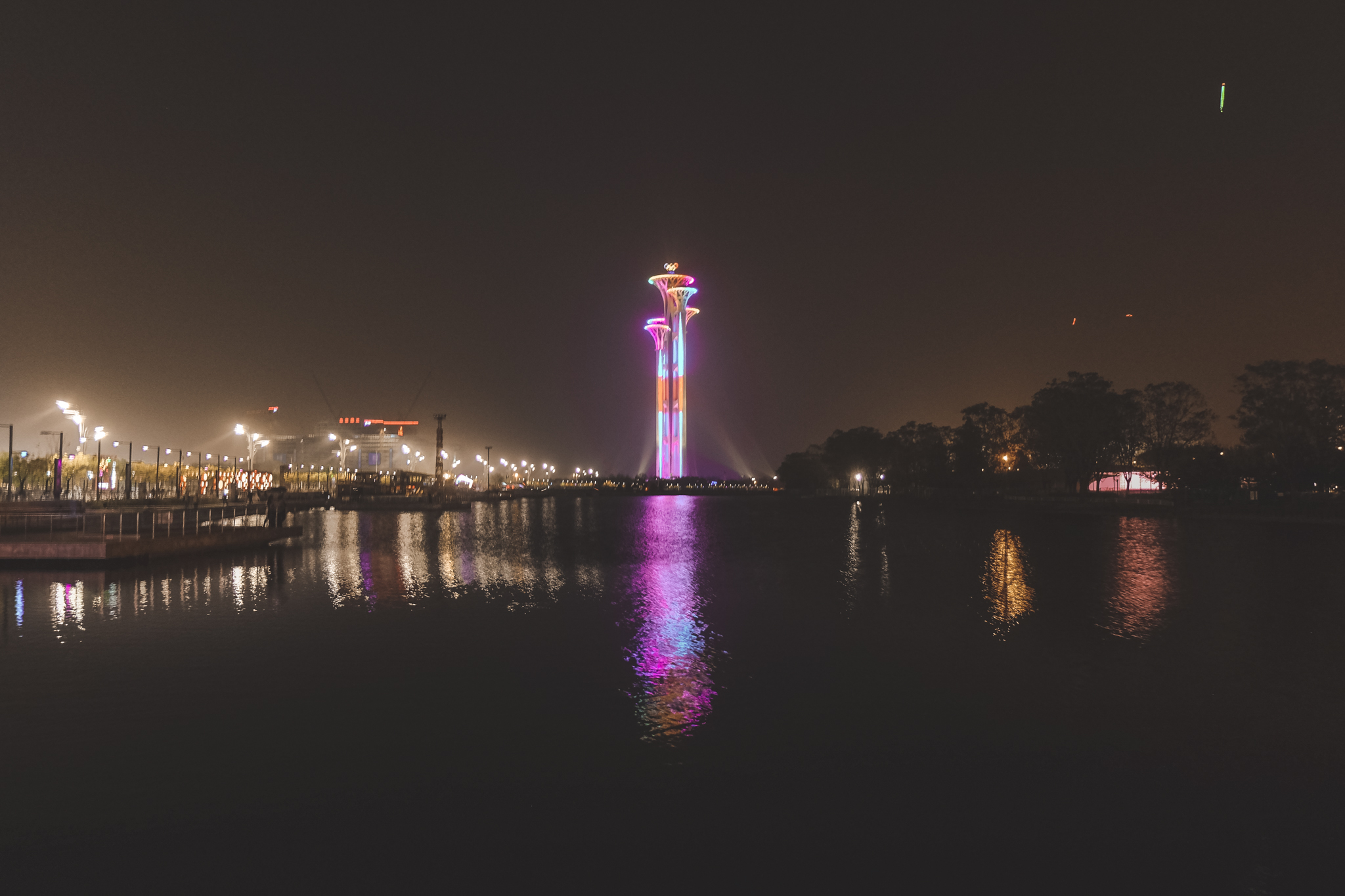 After a few minutes Yongbin parked our car close to the most popular sites of the 2008 Summer Olympics – Beijing's Olympic Green, Beijing National Stadium and the Water Cube. I loved especially the Stadium, also known as the Bird's Nest. The building is huge and it really looks like a bird's nest. It is definitely a must, one of the most amazing buildings I have ever seen. You won't regret a visit.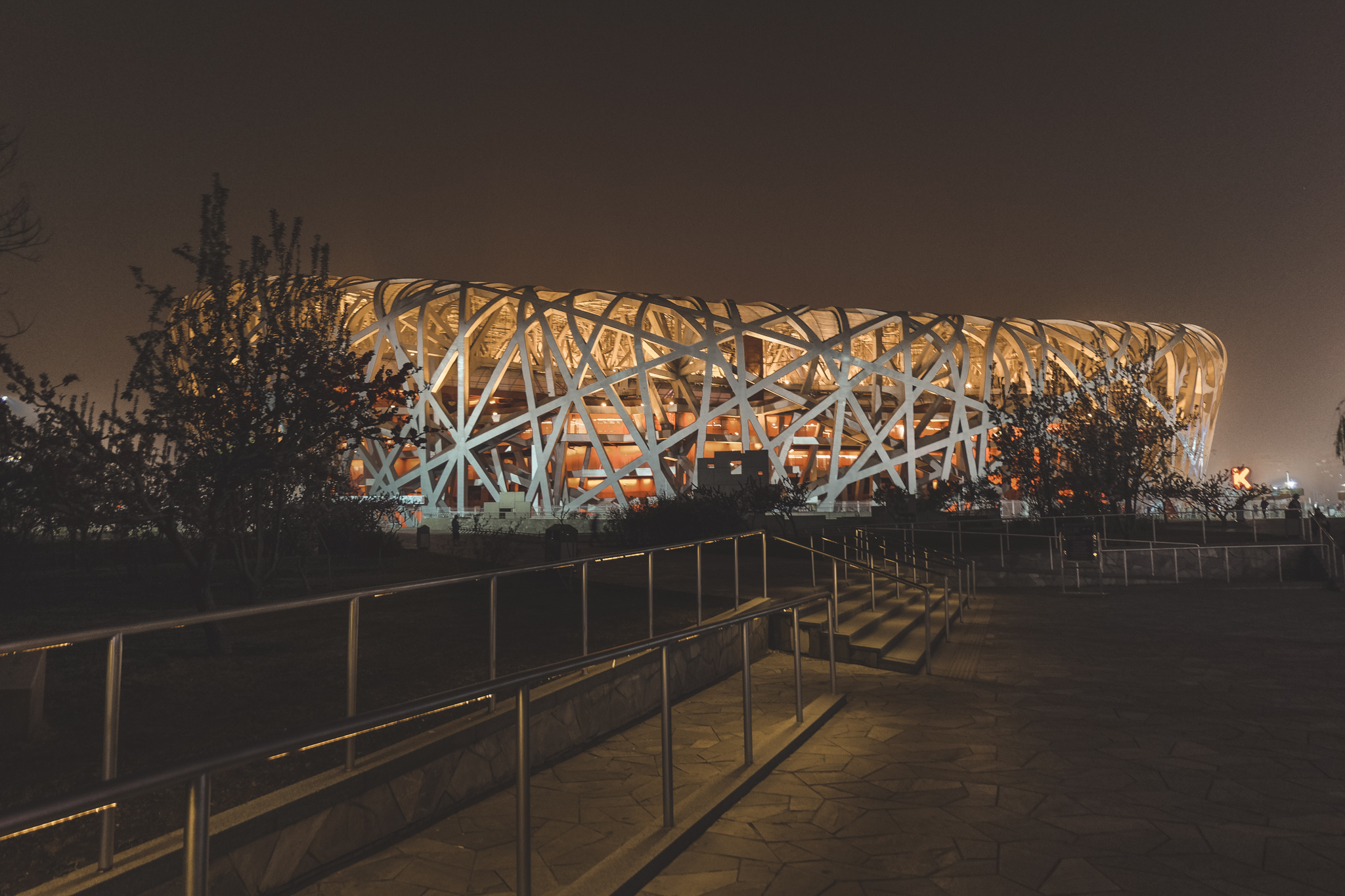 Then we moved to the Old Beijing. It was a late evening so streets weren't crowded and we had a chance to enjoy the atmosphere. We visited famous Qianmen old shopping street. There were a lot of restaurants and small shops and stunning Zhengyangmen gate in front of Zhengyangmen tower. We took some pictures and then we went to Tiananmen square.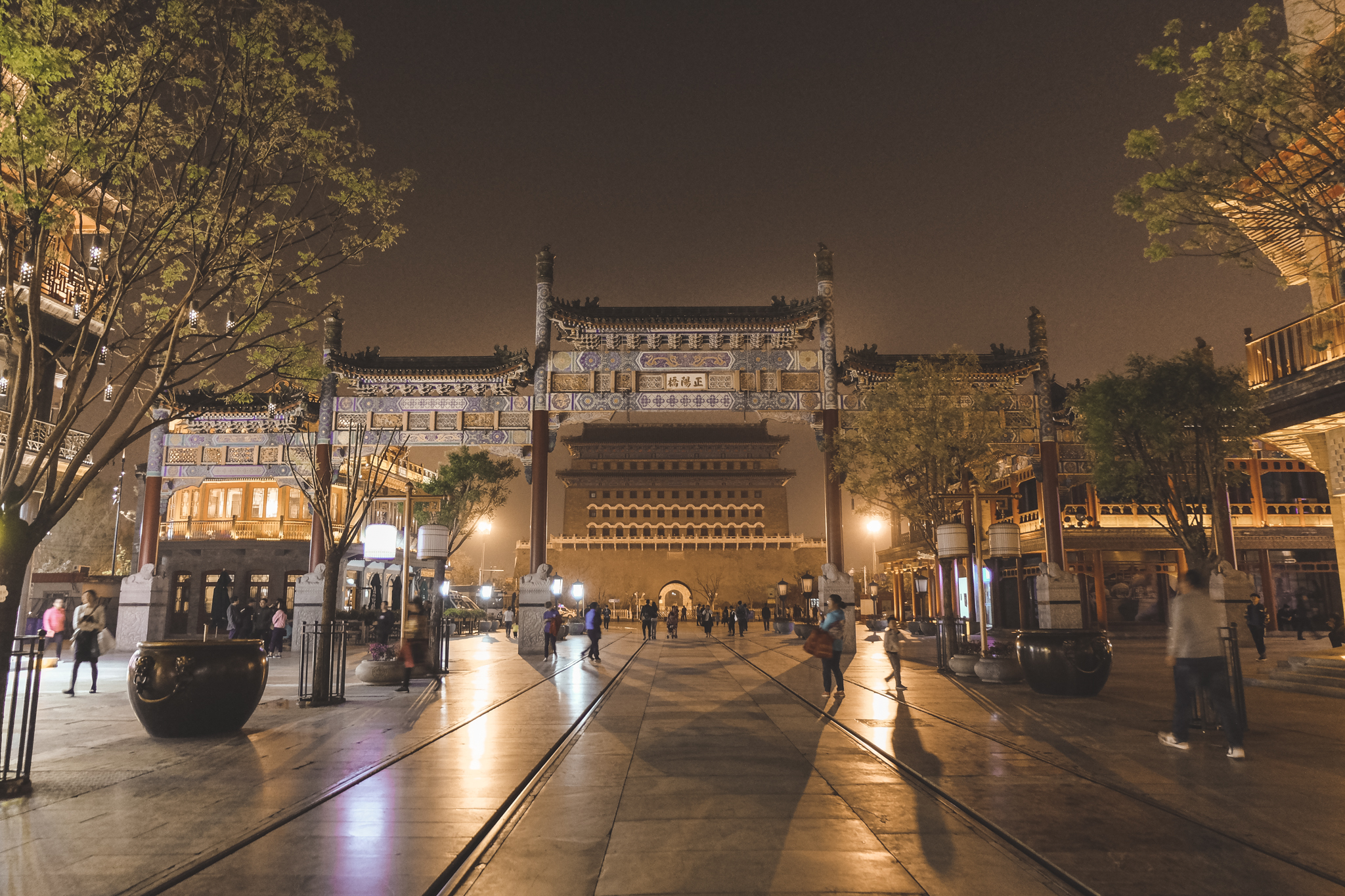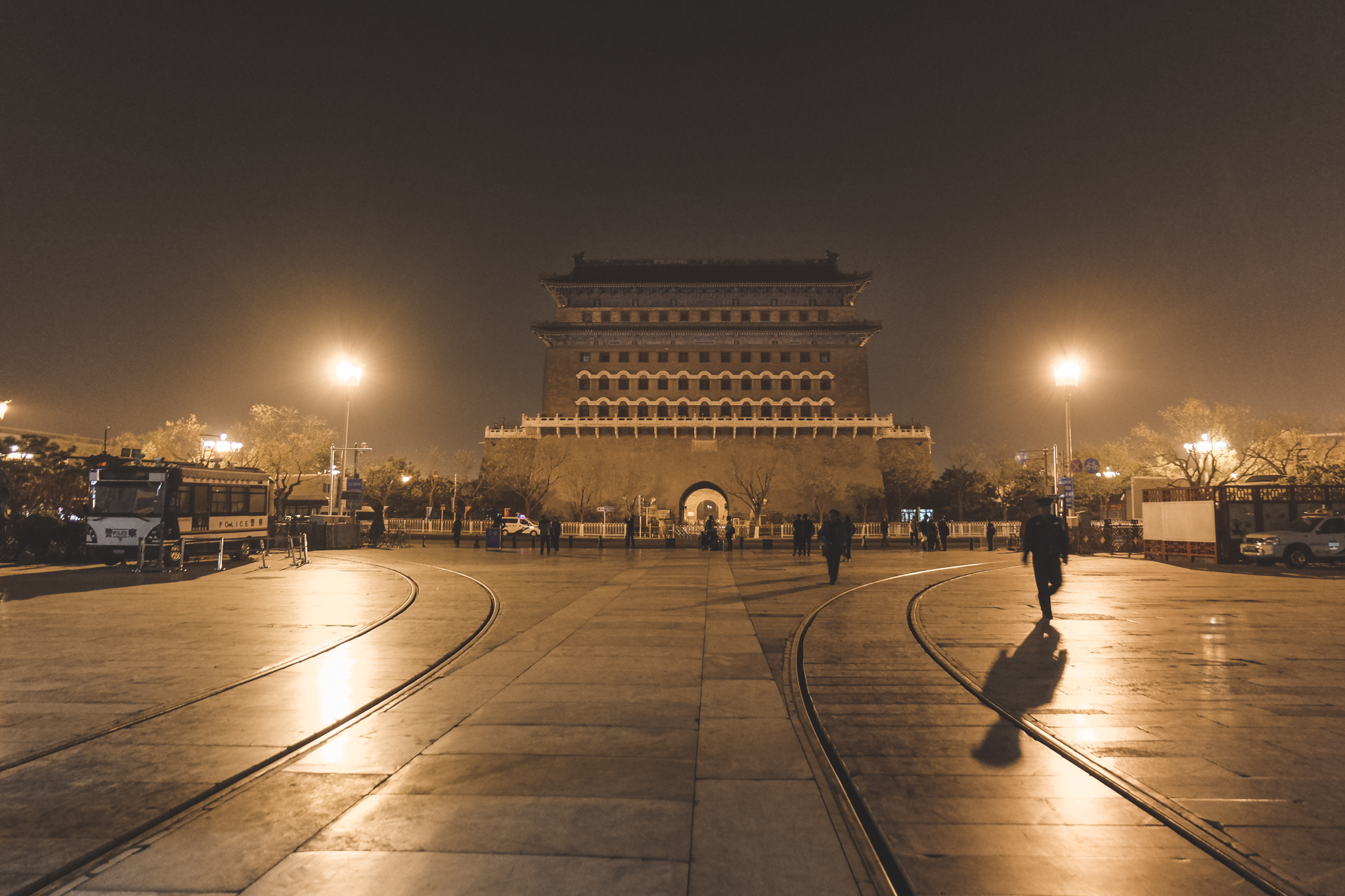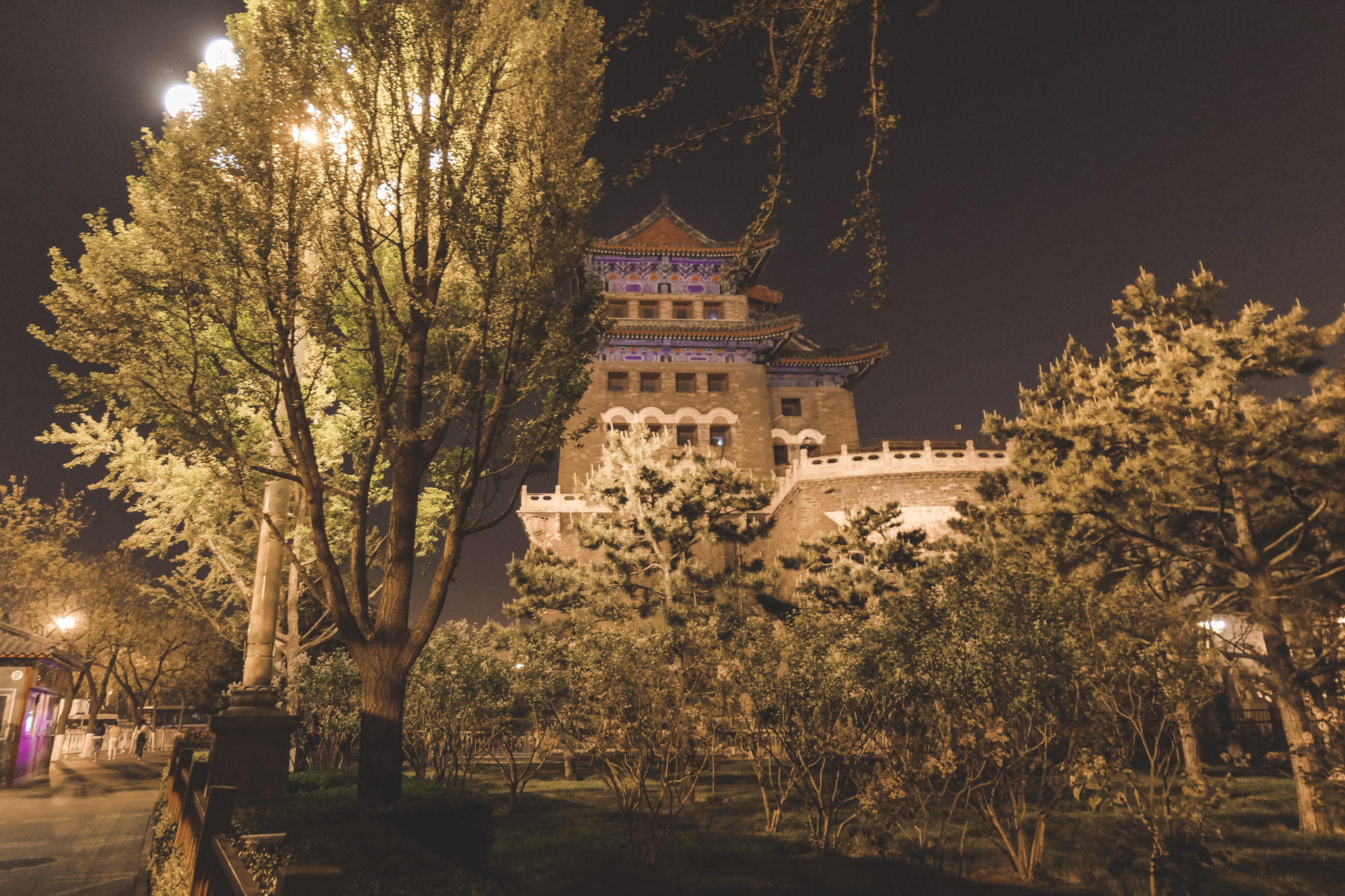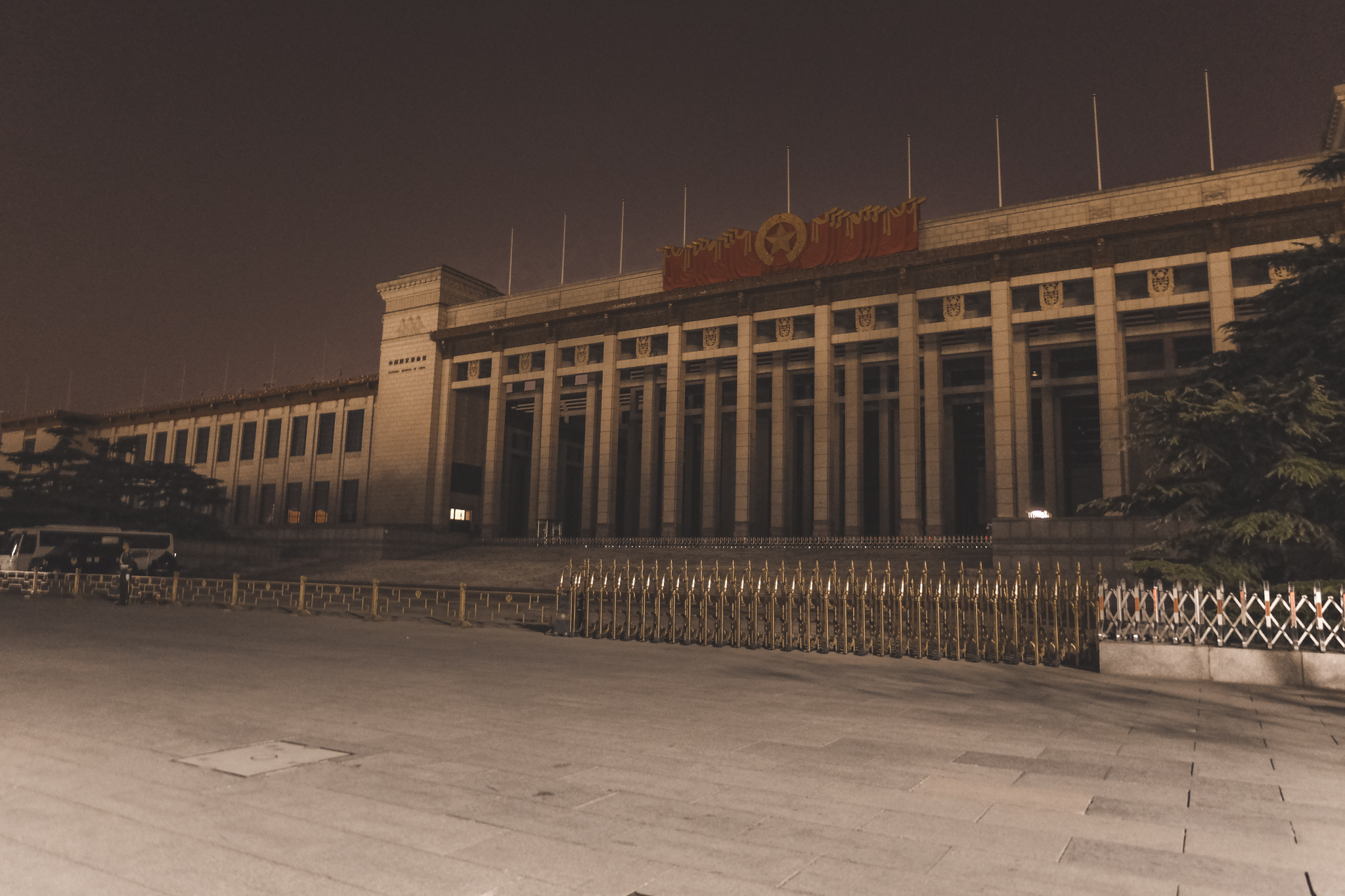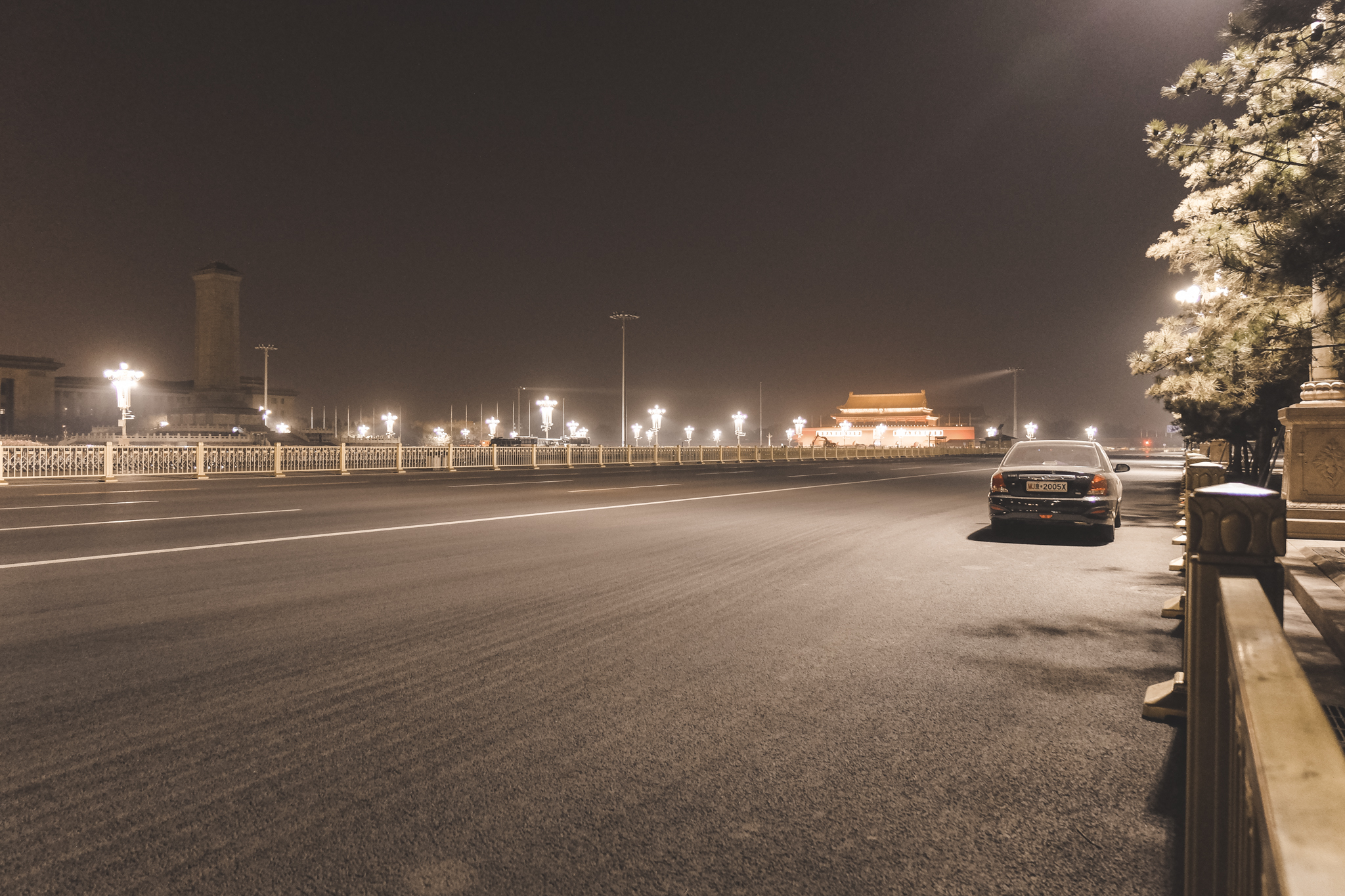 Tiananmen square separates the center of Beijing from the Forbidden City. The square contains the Monument to the People's Heroes, the Great Hall of the People, the National Museum of China and the Mausoleum of Mao Zedong. It was totally empty and it looked a little bit scary with all those soldiers walking around. But it had its own special atmosphere. After that we fell completely tired back to the car and our guide took us safely back to the airport. China, we have not done yet!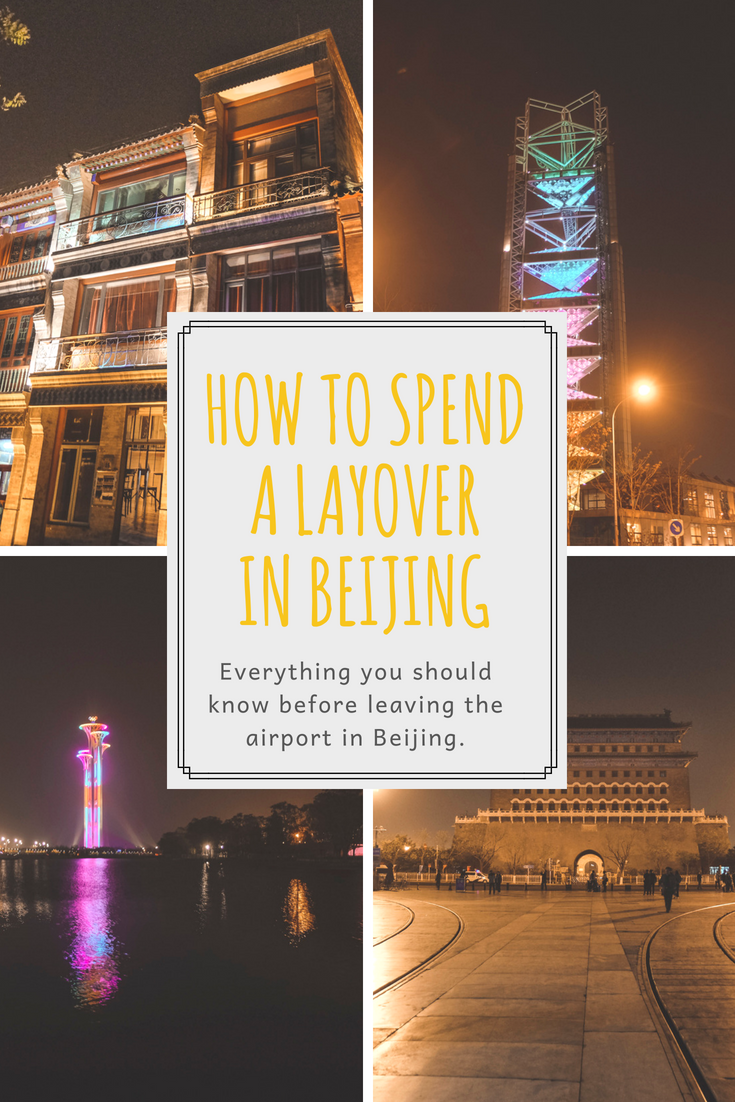 *Disclaimer: This was a complimentary trip, but all written thoughts and opinions are 100 % ours and true.