Sri Lanka was the very first exotic destination I and my Hater have ever visited. It was like all my dreams came true. That country has everything you expect from holiday paradise – beautiful long beaches with smooth sand and thin palms, clean azure sea, big waves which ask you to try some surf lessons, fresh juicy fruit on every corner, authentic local street food stands and all those kitscher sunsets. Romantic souls, it's time to visit Sri Lanka!
---
After we arrived in Colombo, we met our friend Roman, a guy from Slovakia who was (and still is) a manager of Cove House villas in the South part of Sri Lanka. First part of our trip we travelled around the country – we visited the most famous places and attractions, enjoyed tasty food and fresh local fruit. But we really missed beaches so we moved to Dikwella, where we found our own piece of paradise.
Who knows us also knows that we don´t use to spend our holidays in luxurious resorts every time and prefer some cheaper accommodation at locals, but sometimes we would like to spoil ourselves. Come on, people! Sometimes it is okay to go deeper into your wallets and just enjoy life. Because it is too short to be humble every day.
ABOUT THE VILLA
We spent a few days in a cozy villa next to one small beach covered by palms only, no shops, bar or restaurants, just us and some crazy monkeys, wild sea and pleasant breeze. The best about Cove House was the fact that there were only two villas in a big garden. Only five rooms, ten people, so we got as much privacy as we wanted.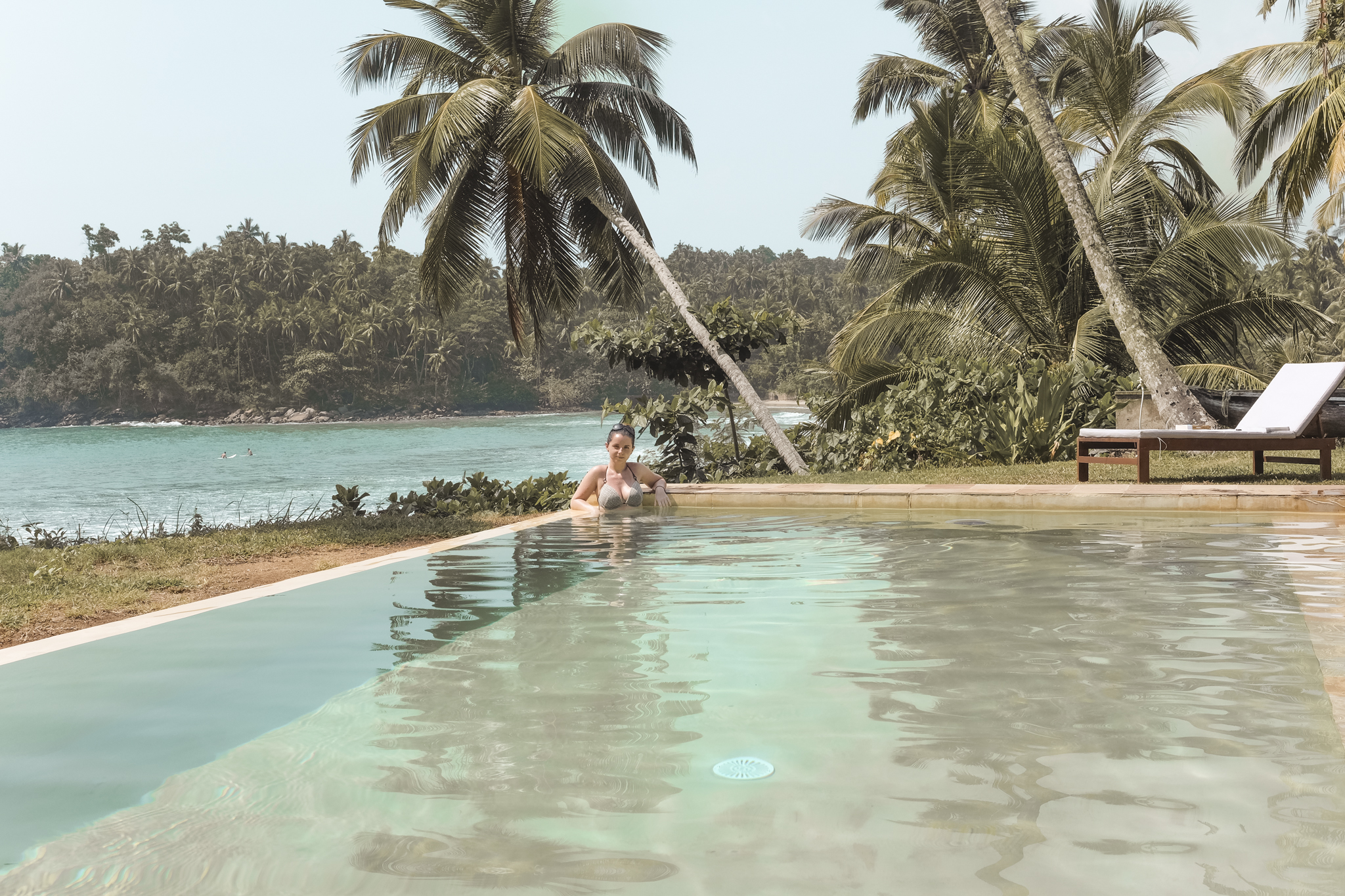 Each villa had its own pool, the bigger one also had a great ocean view. We literally felt like we could jump into the ocean directly from the pool. We could not, but it was only a short walk to the beach. Across the beautiful garden full of palms, trees and colourful flowers and stylish wooden decorations. The owner has an eye for details and design, obviously. Interior perfectly fit to the exterior – it was also full of beautiful design furniture and accessories. The highlight of our suite was an open-roof bathroom which was bigger than our living room in our flat. I could use to that!
ABOUT THE GARDEN
As I mentioned before, the garden was totally stunning. It was so big! When we came to the estate, we could barely see the Cove House. There were giant palms which bordered an entrance path. When we finally saw the villas, I was charmed. They were painted orange so they made perfect contrast with all those green jungle around. And the pool! The view to the ocean will stay in my mind forever I think.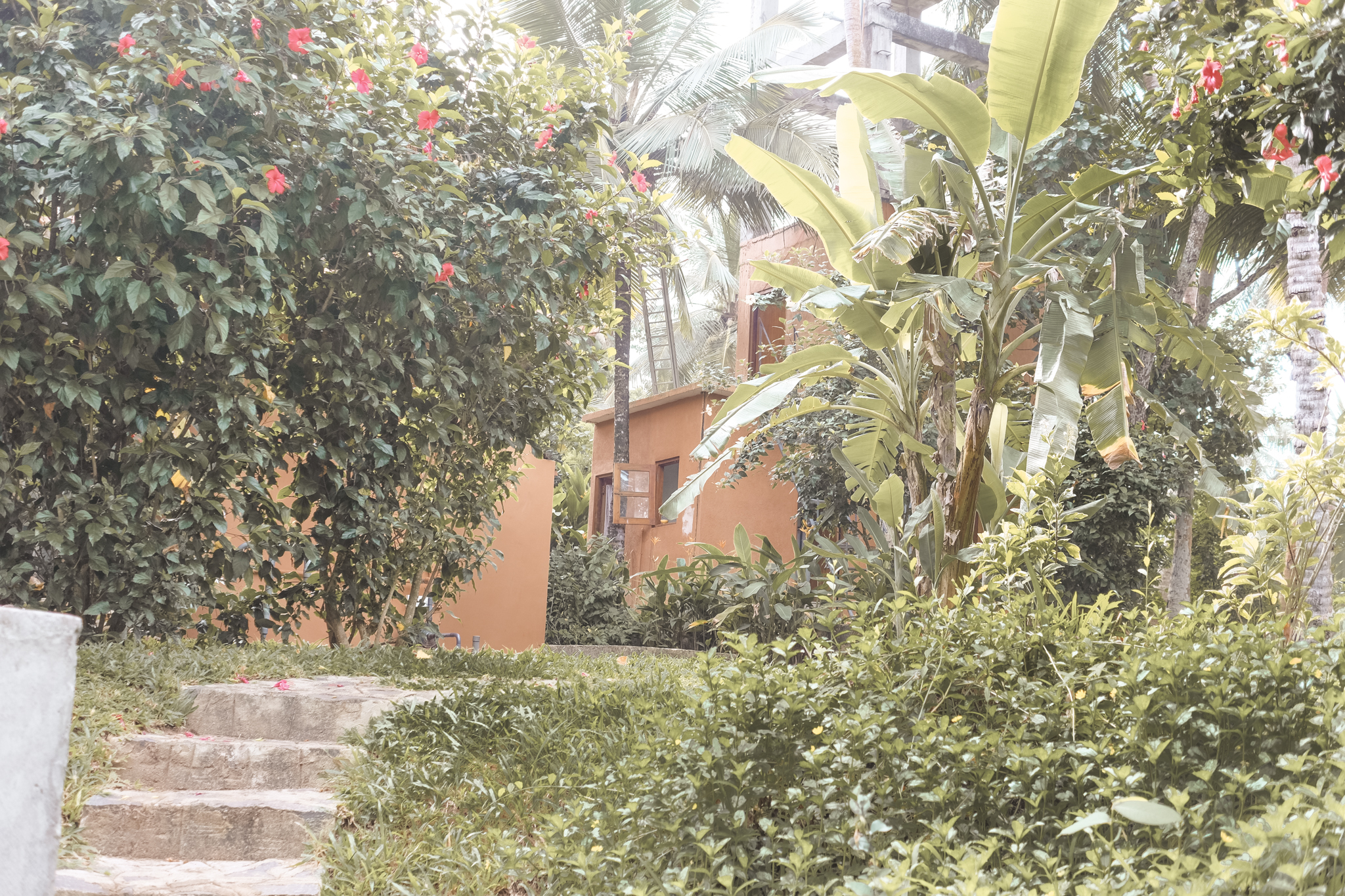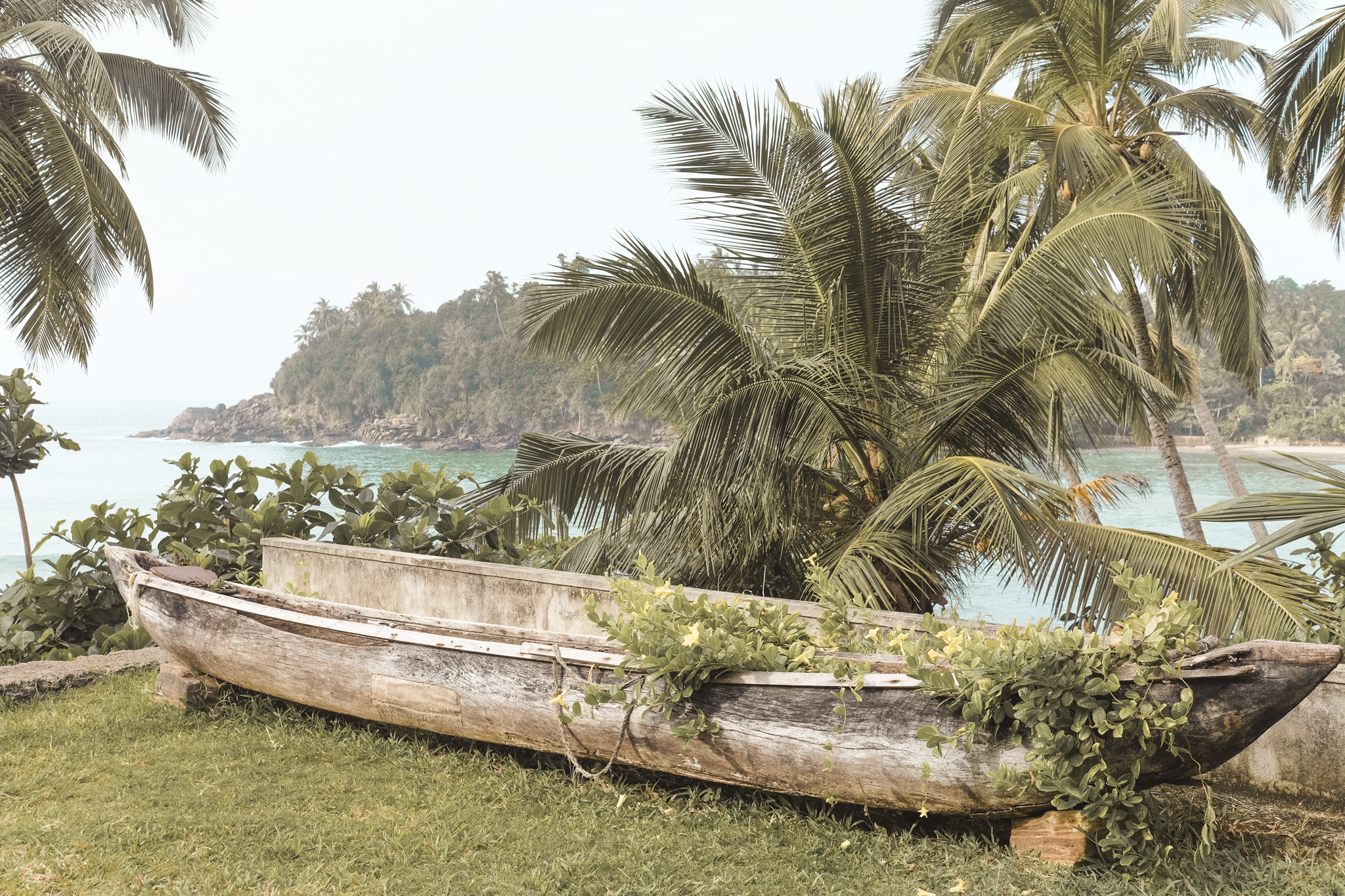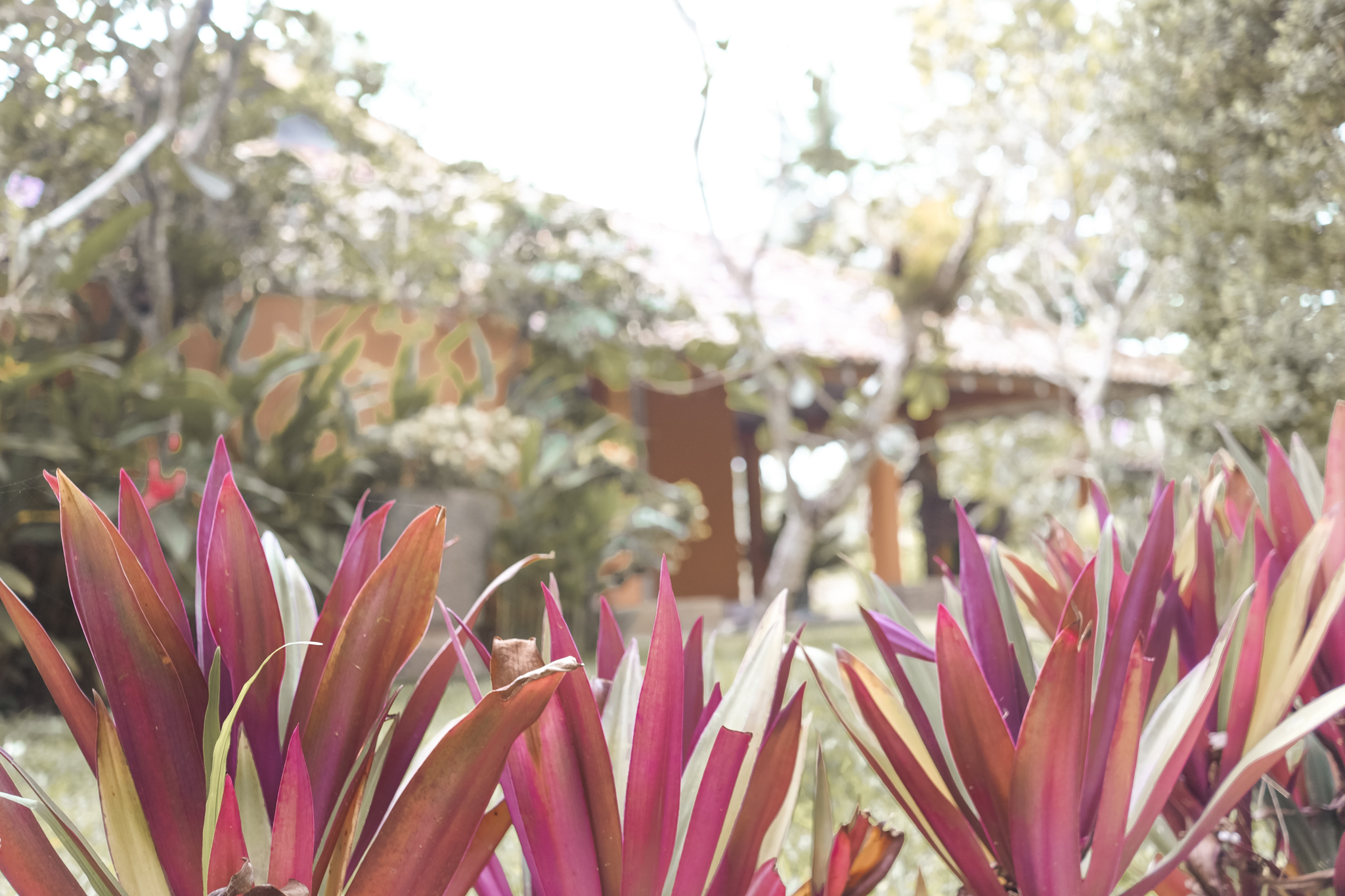 ABOUT THE RESTAURANT
Cove House didn't provide restaurant, Cove House had something much more better – private chef! He prepared all meals for us according to our requests. Every morning he brought on our table (which was situated on big terrace with a garden view) the best of Sri Lanka's cuisine – we had a lot of fresh fruit, typical banana pancakes with coconut and honey and curd, which is a traditional type of yogurt prepared from water buffalo milk. We used to drink green tea, black tea with milk and many kinds of fresh smoothies.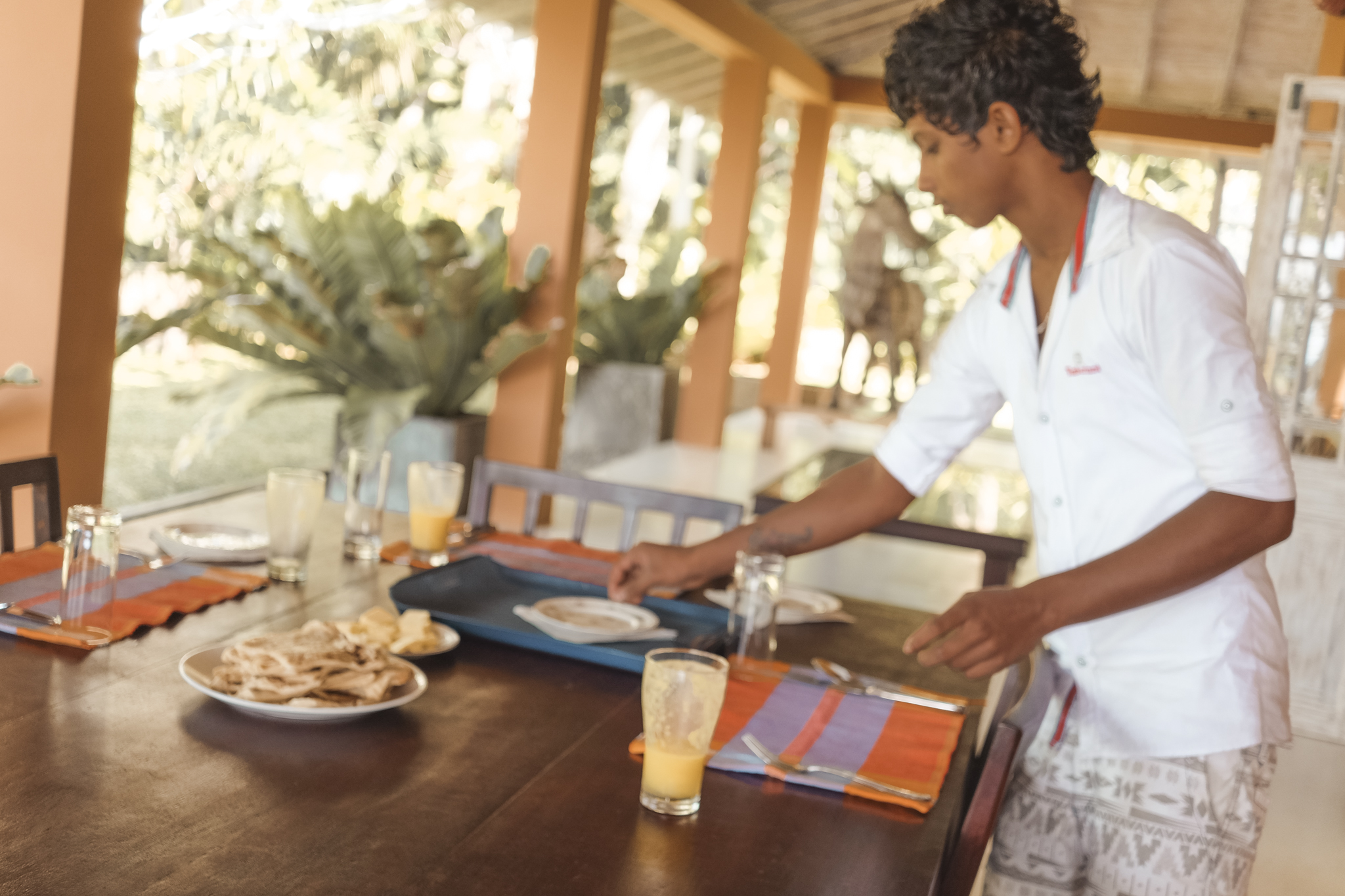 For lunch we usually went somewhere else, depending on our program and activities. But "our" chef always asked what we wished for a dinner. So we tried a lot of fishes, sea food, curry and so many great salads. I think I really gained weight during those days. But it was totally worth it!