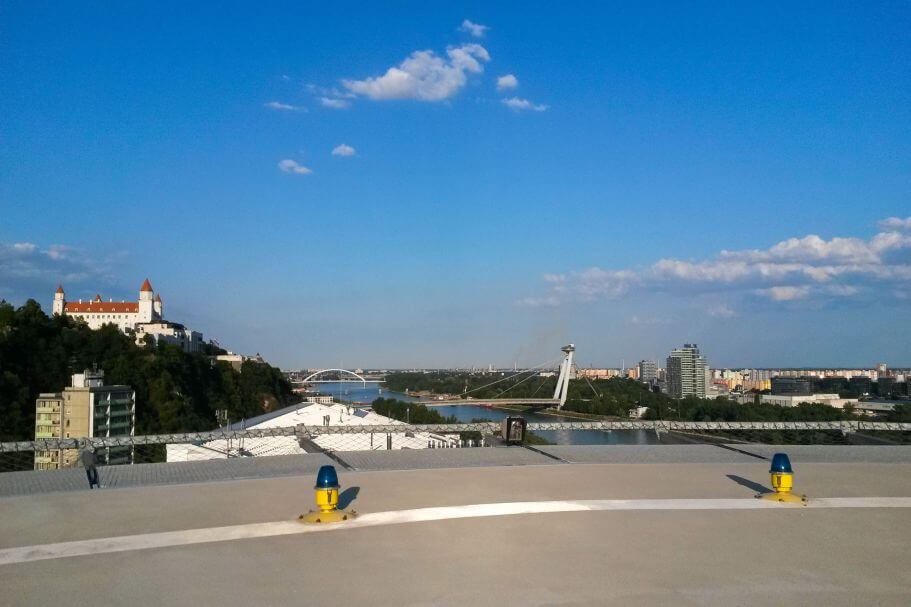 Bratislava is the capital of Slovakia – country which is my home. I´ve been living here for seven years and I can say I know the city pretty well. But there are so many places I have never visited before. And a lot of places I wasn´t supposed to visit. But I am a lucky one. Why? Because of my job as a news agency reporter couple years ago I had opportunities to see and visit places and events where ´ordinary man´ could not attend.
Heliport on the roof of the Grand Hotel River Park was one of the best. I felt like I had the whole city in the palm of my hand. I clearly looked at the most iconic structures of Bratislava at the same time – Bratislava Castle, The UFO bridge and tower, Apollo bridge and Aupark tower.
And what was the occasion?
I was a member of photo shooting group during creating a new CD cover for our popular music band Vidiek. My task was to prepare an interview with the frontman of Vidiek – Janko Kuric. It was the day to remember. View on Bratislava from the heliport was stunning. But I have to disappoint you – it is not allowed to step in the heliport. But you can still visit the Grand Hotel River Park where you can find really great spa with the view on the Danube river which is also great.